All news
LMAD's latest experiment with DB Schenker: Autonomous B2C parcel deliveries in Helsinki, Finland
Published: June 1, 2021 - Last updated: January 12, 2022
The experiment's details:
Timeframe:

from June to September/October 2021

Partners:

DB Schenker, GIM Robotics

Focus:

B2C autonomous deliveries for DB Schenker to pre-defined pickup locations

Area:

Jätkäsaari (a dense urban area in Helsinki, Finland)

Population:

~15 000

Robot:

An autonomous robot developed by GIM Robotics

Capacity:

13 deliveries per round (and potential multiple rounds daily)
—
LMAD is currently in the last stages of preparing for a new experiment in cooperation with DB Schenker, this time in the Jätkäsaari area in Helsinki, Finland. This is a large urban area that mostly comprises newly built housing and office buildings, and we want to deploy our autonomous delivery solution for the last mile there. This time, we're shifting to parcel deliveries for end customers (B2C), which will be handled by GIM Robotics' autonomous delivery robot.
The goals of our experiment are to:
Extend DB Schenker's pickup network and increase their delivery capacity

Improve DB Schenker's customers' experience by providing them with more flexible and convenient options

Help reduce the time to delivery and its cost

Test whether we can cover a large urban area and adapt to the local population's needs

Contribute to the action plan for a carbon-neutral Finland by 2035

Test autonomous B2C parcel deliveries for the first time in Finland.
Let's look at the details.
The context
In the previous experiment, which took place in November and December 2020, we only delivered to businesses and to office buildings. The delivery volume was lower than what we expect for this experiment. We tested a few things we could integrate later on and defined several key ideas on how we could add value to DB Schenker's services. It was a brief experiment.
In this one, in Jätkäsaari, we're aiming to test our solution over a longer period: at least 3 months, possibly more.
We are integrating our offer with DB Schenker, who will add LMAD as a delivery option that customers can select right at the checkout step at e-commerce sites.
In the previous pilot experiment, we were delivering to the doors of office buildings. This time, we'll have multiple virtual pickup points, or specific places to which the robot will come and stay for a while. We're choosing them strategically, to cover a certain radius and to optimize deliveries to multiple addresses.
In Finland, people prefer using pickup points; home deliveries are much more expensive. In this area—which has a population of about 15 000 people—there's only one pickup point of DB Schenker, a local R-Kioski.
The delivery process from the customer's point of view
From the customer's point of view, the process looks like this:
Ordering:

When they order something, customers can select DB Schenker and see a list of options with the different locations. Once we deploy, they'll be able to select the LMAD robot from the list.

Selecting a pickup location & time:

When the delivery day comes, we take over the communication with the customer. They receive a message from our system that their parcel can be delivered soon, together with a link they can use to select a pickup location and a preferred time.

Notification of arrival:

They get another notification, as soon as the robot arrives at their preferred spot, where it'll stay for at least 30 minutes. After that, the robot will move to its next location, which will not be very far from the first one (a few hundred meters away or so). This way, customers will be able to get their parcel at the second spot, if they didn't get it at the first one. We plan to integrate a live location map in addition to that. On it, customers will be able to see where the robot is, and meet it there.

Delivery:

They also get a PIN code, with which they can open the locker containing their parcel.
And that's it!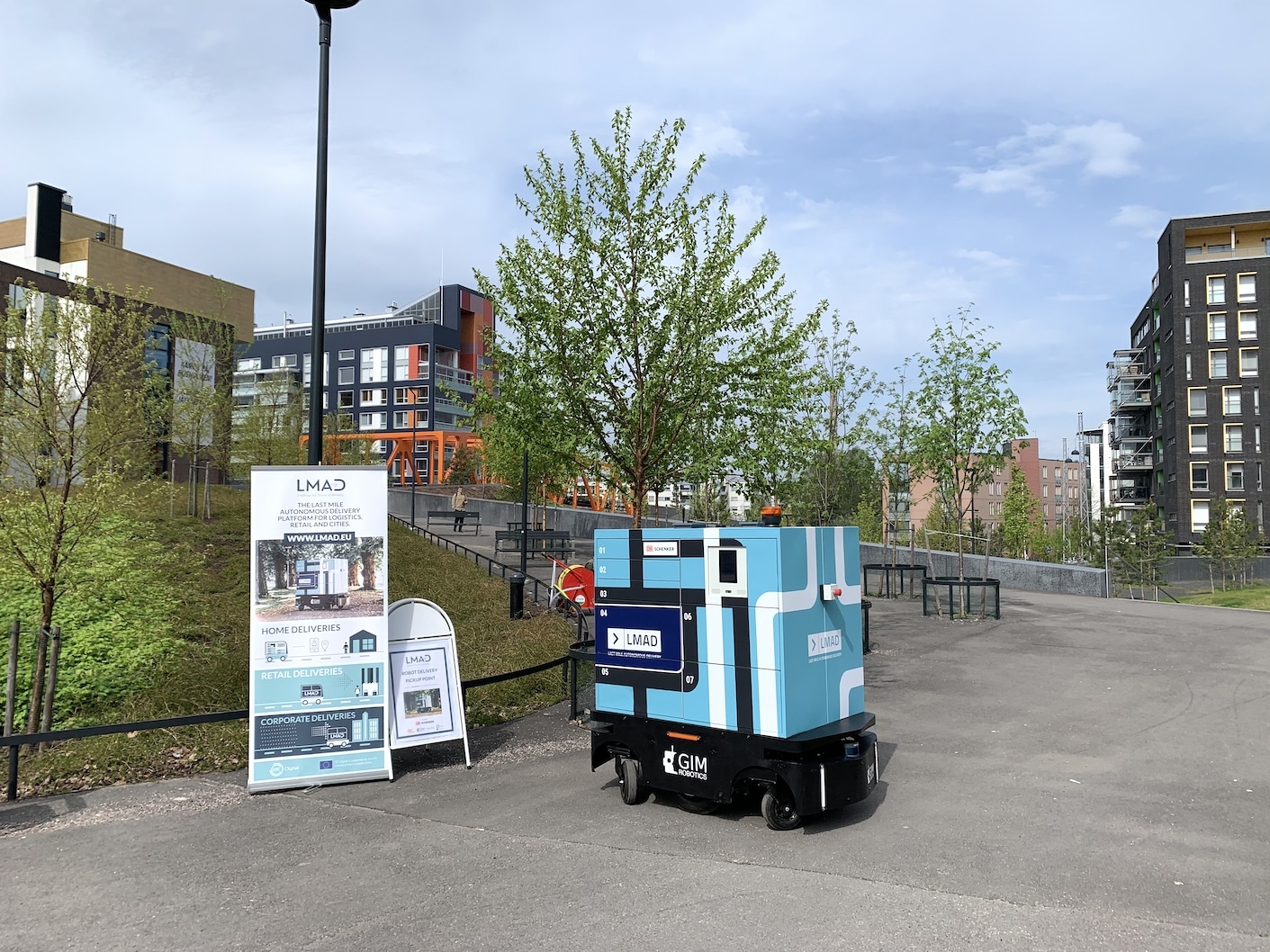 GIM Robotics' delivery robot that we'll use for DB Schenker's deliveries in Jätkäsaari, Helsinki
If someone isn't able to pick up their parcel at the agreed time, then they'll be able to get it from the kiosk, where the unclaimed parcels will be left at the end of the round.
We'll first start with one round of deliveries, but we're aiming to get to multiple rounds each day. In each round, the robot will get loaded, go to the pre-defined pickup locations, and then return, to be loaded for another round.
Permits to operate
To operate in this area, we have 3 different permits:
A test permit from the traffic authority

An approval from the police

Local permit from the city of Helsinki for that specific area.
The robot is only moving on the sidewalks and not on the road or on bike lanes.
We have our first permit until the end of July; our goal after that is to continue the experiment for another 3 months, by expanding our delivery area and increasing our delivery volume to scale up deliveries. If everything goes well, we'd like to scale it to other locations that have similar use cases.
The solution's features
Our platform offers the following key features:
Communication with end customers

Negotiation of delivery times & locations with them

Pre-optimizing parcels' distribution (i.e. which parcel goes into which delivery round)

Optimizing how the robot moves between the different pickup points

Defining the specific pickup times

Managing the robot on its autonomous delivery journey.
The robot and its autonomous navigation software are developed by GIM Robotics, and their system defines how the robot will get from A to B. We create an interface for the robot and we manage its performance. We're currently mapping the area and defining the delivery routes and the pickup points, as we do in other experiments (for example, our experiment with Nokia at one of their R&D campuses in France).
Before the robot begins its round, the DB Schenker courier will come and meet it at its starting point to load it with the parcels. After that, the robot will go on its parcel delivery mission. If there's a second round of deliveries, it'll come back again at a specific time to be loaded again. We can be flexible and define the loading time(s) each day.
The robot needs to cross streets, one bridge, and a park, where lots of kids are playing.
It's equipped with a virtual safety bumper developed by GIM Robotics. Thanks to its sensors, the robot can predict where it is going, and detect the moving obstacles that are in its way. If it estimates that a collision is possible, it stops moving. In this experiment, we'll have plenty of opportunities to test that.
The deliveries
At the moment, the area's delivery kiosk (R-Kioski) takes dozens of parcel deliveries per day. DB Schenker is also proposing home deliveries, as well as some other pickup options in the city, for example in different areas or around the main railway station. We're aiming to make DB Schenker's options more convenient by bringing them closer to people's homes.
It's also important to note that delivery vans look totally out of place in this area, which is fully pedestrian. So, DB Schenker wants to load the robot in a more suitable area, and then let it deliver the parcels. Contrary to vans, the robot is not polluting at all. It's 100% electric, and it's also smaller and more silent.
Conclusion
The experiment will begin in June 2021, and we're really excited to test how we can speed up, optimize and extend DB Schenker's delivery options in Jätkäsaari.
DB Schenker is currently using a man-operated kiosk (R-Kioski) to deliver to these areas, however, as the volume of deliveries is rapidly increasing, they're looking at alternatives. We'll deploy our platform using our GIM Robotics robot to help them streamline deliveries.