All news
Last Mile Delivery Challenges: Autonomous Vehicles and Robots for Urban Logistics
Published: March 24, 2021 - Last updated: May 6, 2021
The last mile (or the last kilometer) is a sensitive point in the supply chain, and there are several tensions growing around this last link of the journey of goods to their customers. So let's first put last mile delivery in context. Implementing the possible solutions lies at the crossroads of several problems:
The increase in the volume of e-commerce deliveries

Tougher environmental regulations in urban areas

Traffic conditions and regulations

Availability, cost, and reliability of human operators

Delivery times to customers

Economic pressure from distributors on the cost of delivery
These define the challenges that logistics service providers must solve in order to ensure a seamless customer experience while keeping delivery costs low and predictable.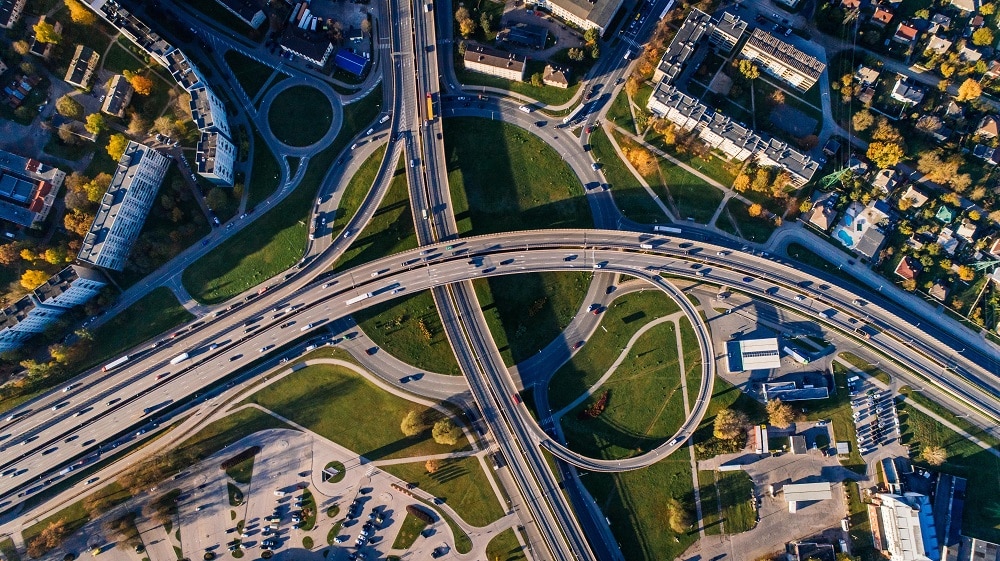 Complex urban environments pose many challenges to last mile delivery
And this is exactly where autonomous vehicles and robots enter the picture and provide promising solutions to most of these challenges.
Market demand for last mile autonomous delivery solutions is at an all-time high
With the growth of e-commerce, which was significantly accelerated by the Covid-19 pandemic, the prompt and reliable delivery of goods to customers is no longer optional and "nice to have". Instead, it becomes one of the primary factors that customers take into consideration, and that can define the success (or lack thereof) of sellers, marketplaces, couriers, and logistics providers.
The autonomous last mile delivery market is booming and is expected to have a compound annual growth rate (CAGR) of 24.4% between 2021 and 2030. The market pressure for developing alternative solutions that are both convenient (for customers) and cost-efficient (for suppliers) is at an all-time high, and both marketplaces and providers of logistics services see it as a necessity in order to grow. The last mile is one of the most expensive elements of the delivery equation, representing over 50% of the total delivery costs. Autonomous vehicles and robots are an obvious solution to this problem and can bring costs down significantly, from $1.60 to $0.06 per delivery, according to estimates, although they still face several challenges.
The development of autonomous vehicles and robots solves some of these challenges
The logistics sector has a huge impact on the technological evolution of autonomous vehicles, and the latest developments in that domain are of numerous electric, robotic and autonomous delivery projects, notably in the United States and Asia (JD.com, Dominos' Pizzas, Just Eat…).
The logistics industry is seeking to optimize delivery by combining
"Good-to-person" warehouse solutions

AI-based operations optimization software

Autonomous delivery solutions.
This is all done in order to face the challenges and constraints of last mile logistics, combined with the growing need for cost-effective and reliable solutions and realistic service commitments (SLA).
There are a number of autonomous delivery solutions that are at different stages of development, testing or rollout, such as aerial drones, autonomous vehicles (cars, vans and trucks), and robots or droids. These solutions have the potential to revolutionize the last mile delivery market and help providers improve customer satisfaction dramatically.
They all solve some of the challenges of last mile delivery in urban environments, but still face a number of obstacles, including the fact that legislative frameworks are rather slow to adapt to new technologies and innovative last mile delivery solutions. In this regard, Europe is lagging behind the United States and Asia.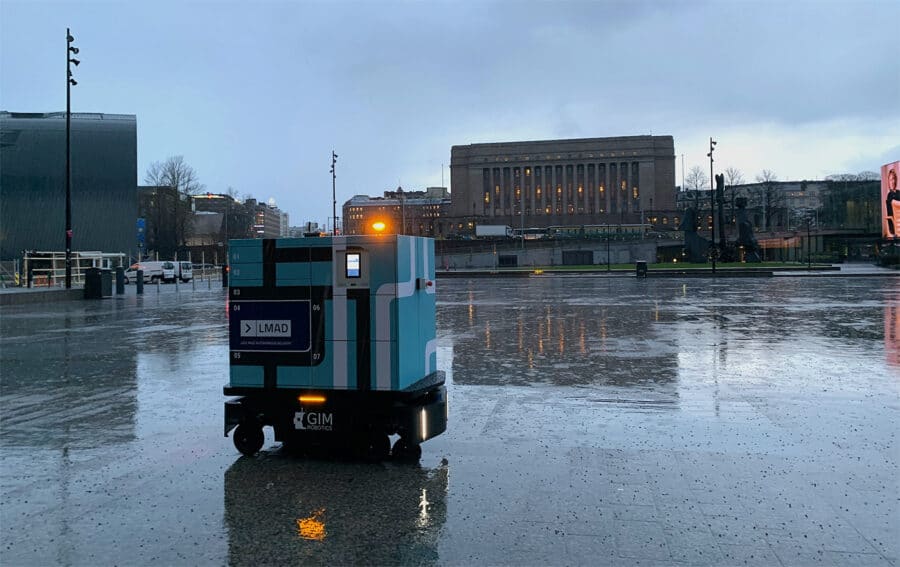 LMAD's last mile delivery robot during a pilot experiment in Helsinki
Autonomous delivery solutions in complex environments & traffic conditions
Urbanization is a rapidly growing trend: according to a UN report, 55% of all people are living in urban areas today, and this percentage is expected to increase to 68% by 2050.
Some urban environments are extremely dense and complex (especially in Asia), which makes them particularly difficult to navigate, and the lack of dedicated infrastructure to support autonomous deliveries hampers development.
Autonomous vehicles and robots have to overcome obstacles and limitations that are very varied in nature, such as:
Uneven sidewalks

Traffic lights

Bridges

Tramline crossings

Steps



Besides that, there are many different participants in urban traffic, such as human-driven vehicles, cyclists, pedestrians, electric scooters, and more. Participants do not necessarily follow traffic rules at all times, which makes them unpredictable, and traffic conditions are dynamically changing. In addition to that, areas that are more densely populated present bigger challenges, and require a higher level of autonomy and technological sophistication. We're working on solving these challenges one by one, and have completed a few successful experiments in 2020. The last one of them took place in the heart of Helsinki and was completed in partnership with DB Schenker.
The takeaway
The final leg of the journey of goods to customers is now more important than ever, and the market demand for autonomous solutions is steadily growing. That's exactly why we've embarked on a mission to facilitate the development of autonomous delivery robots, by creating a dedicated software platform managing robots and optimizing last mile delivery.
Delivery by autonomous vehicles and robots is one of the solutions that have the potential to meet the delivery challenges in urban spaces. A 2016 McKinsey study predicts that autonomous vehicles could make 80% of B2C deliveries in a decade.
In order to realize the economic and service potential of this technological opportunity, it will be necessary to address many political, social, economic, and technical issues that will change the organization of the last mile logistics value chain.