All news
Autonomous delivery: demands and solutions
Published: April 15, 2021 - Last updated: January 12, 2022
The development of new technologies in the logistics sector stems from the need to respond to multi-factor demands and challenges, which are evolving at a rapid pace. On one hand, we have the increasing customer demand for faster and more convenient deliveries, and on the other, we have a more and more urgent need to develop environmentally friendly solutions, that are also cost-effective and do not congest city centers.
Let's look into the details of each of these challenges—and into the solutions that autonomous delivery provides.
The challenges and demands of the last mile
The elements that play a role in the development and implementation of autonomous electric robotic delivery solutions are multiple and concern different players. There are a few different actors that define the challenges for the last mile:
Local administrations restrict access to city centers.

Cities restrict the access of polluting delivery vehicles to the city centers and progressively limit the delivery places and times. Historical city centers are often fully pedestrianized, in an effort to

increase the quality of life and reduce the ecological footprint

of the population.

Logistics service providers need cheaper, more efficient solutions.

Logistics service providers need alternative solutions to deliver to urban

centers

, reduce operating costs, manage understaffing problems, and provide truly customer-centric services. The last mile is one of the most expensive elements of the delivery cycle, estimated by Capgemini at

41% of the overall supply chain costs

.

Sellers need to answer to the increasing demand for rapid deliveries.

Both B2B and B2C businesses selling physical products need new solutions to meet the increasing expectations of their customers for rapid and convenient deliveries. They also need to decrease the cost of delivery that is partly absorbed by their margins to remain competitive.

Consumers are ordering online more and more often.

Their needs for a fast and convenient last-mile delivery are increasing. Regarding the last point, the competitive edge of services such as Amazon Prime sets very high expectations, and customers no longer tolerate slow deliveries.
All these challenges and demands are complex and multifaceted and require an integrated approach that takes them all into consideration.
Autonomous delivery solutions: how can autonomous vehicles and robots help?
The value proposition of last-mile delivery robots and autonomous vehicles provides answers to these challenges. Although the sector is still in its infant phase as of 2021, it's expected to grow at a rapid pace in the coming years, and gradually replace other, less convenient, and more expensive solutions.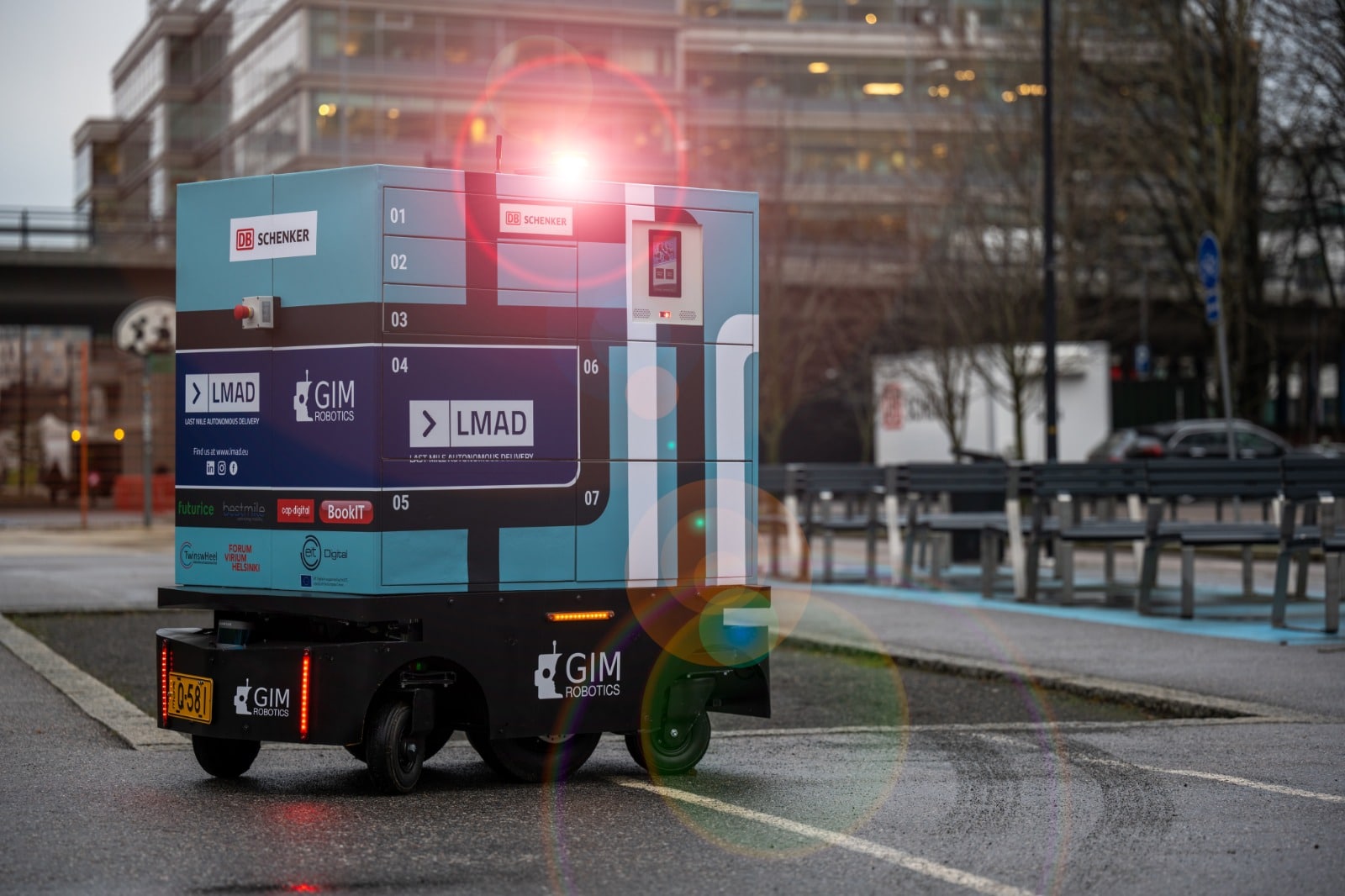 Photo from LMAD's pilot experiment with DB Schenker in Helsinki, December 2020
Let's now look at the specific ways in which last mile autonomous robots and vehicles are solving these challenges and responding to new demands.
Lower environmental impact.

Because autonomous vehicles and robots are electric, they are a part of the solution when aiming to reduce pollution and congestion in densely populated areas. Compared to the delivery vehicles we currently use, they come with a reduced wheelbase, optimized roads, and regular, pre-scheduled courses that match the local population's demands and flow. Because of this, their ecological footprint is lower than the conventional delivery options we now use.

Reduced cost.

Autonomous solutions have a huge potential to reduce the costs of the last mile (or the last kilometer), which are currently very high. According to a

McKinsey report from 2016

and

another one from 2018

, autonomous vehicles have the potential to reduce delivery costs by up to 40%. Staffing a delivery fleet can be a problem, because of availability, reliability, and cost, while autonomous vehicles and robots greatly reduce the number of staff members required.

Improved convenience and customer satisfaction.

Because of its potential for a 24/24-7/7 service availability, autonomous robotic solutions can offer deliveries that are free of the existing time and location constraints. The recipient has the possibility to fully customize delivery. Robots do not experience emotions: having to wait or to come over a few times isn't a source of frustration. Upon request, they can change their delivery schedule and deliver to a different location, while simultaneously recalculating and optimizing the route in real time. As a result, both customers and sellers are more satisfied with delivery.
Finally, we also have to look at the Covid-19 pandemic and its lockdowns, social distancing rules, and the increased tension it has put on the supply chain. The demand for autonomous delivery, even in hospital settings (f.e. meal tray delivery, disinfection) has burgeoned. Autonomous robots can perform tasks in difficult conditions without interruption, and help control and contain the spread of the virus.