All news
What Helsinki's residents think about autonomous parcel delivery: survey results
Published: March 17, 2022 - Last updated: March 17, 2022
In November and December 2021, we set out on a mission to test whether an autonomous delivery robot (ADR) could deliver parcels to customers in an urban environment. The pilot experiment took place in Jätkäsaari, which is one of the fastest-growing residential neighborhoods in Helsinki, currently housing more than 10,000 residents. After the experiment, we also conducted a survey to see how Helsinki's residents felt about autonomous deliveries – and we're excited to share the results with you.
In our pilot experiment, our autonomous delivery robot (manufactured by GIM Robotics) successfully delivered over 100 parcels to end customers in Jätkäsaari, Helsinki, over the course of 7 weeks, in partnership with DB Schenker. More than 10 online retailers participated. This proves that they can successfully use autonomous delivery robots for B2C parcel deliveries, too.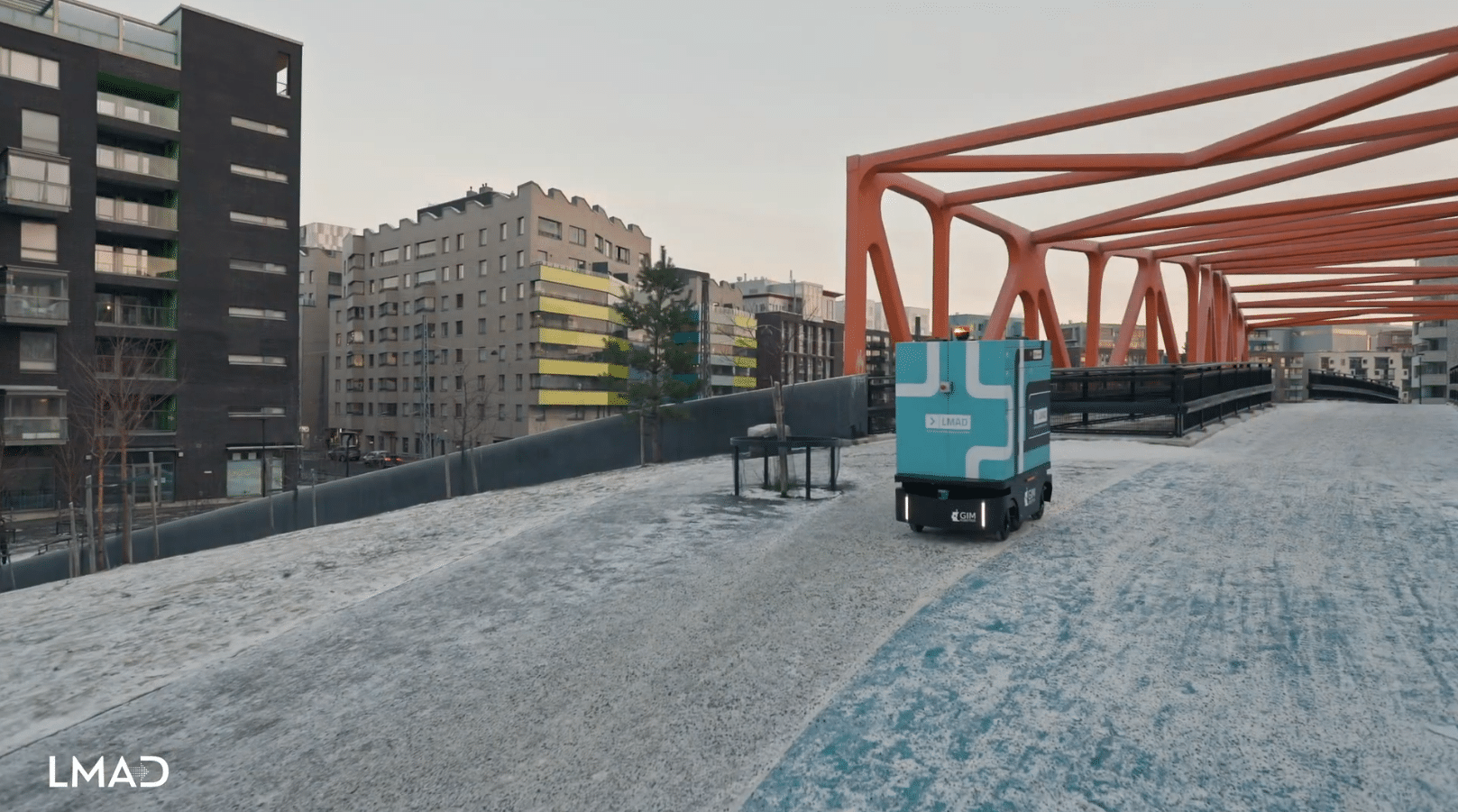 Our robot during our latest experiment in Helsinki, Finland
As we know, customer experience is extremely important for both logistics service providers and retailers. That's why we were particularly interested to know how both customers and residents felt about autonomous delivery.
The feedback we received throughout the experiment was positive, but we wanted to go deeper. For this reason, we created an online survey in collaboration with Forum Virium Helsinki and the Hanken School of Economics (Hanken Svenska Handelshögskolan), to uncover the specifics of how our customers felt about the experiment, and also find out more about what Jätkäsaari's residents think about autonomous deliveries.
In this article, we'll analyze the details of the survey results, and discuss the feedback we received – both positive and negative – so that we can improve our operations in our next experiments, and build on what we've already achieved.
We'll go over the study's methods, some of the key findings, and then discuss the details of each of the main topics of interest.
The survey's methods
The survey was created by the Hanken School of Economics and mainly promoted by Forum Virium Helsinki. It was open between February 15 and 25 to Helsinki's residents. A total of 102 respondents took it, 98 in Finnish and 4 in English.
Many of the questions were multiple-choice, which is why percentages amount to more than 100% in some cases.
The survey wasn't exclusively oriented towards people who interacted with the robot: instead, it was geared towards the residents of Helsinki in general, to see how they feel about receiving their parcels from a robot, rather than from a human courier or from a pickup point.
And indeed, not everyone encountered the robot during our pilot experiment. During the 7 weeks it was operating, from the 102 respondents, approximately half saw the robot or used it to receive a parcel delivery.
What Helsinki's residents think about delivery robots: key findings
Thanks to the survey, we uncovered a lot of interesting information that helps us better understand people's needs and expectations in regards to autonomous deliveries, as well as their main concerns (such as parcels getting lost or stolen).
Below, you can see the key findings from our survey:
Many had a genuine interest in trying a new service:

From those who used LMAD as a delivery option, many had a genuine interest in trying a new service (69%) and were intrigued by the prospect of receiving a delivery via an autonomous robot (38%). The second most quoted motivating factor was the proximity of the route of the distribution robot, for 46% of the respondents.
Communication on our side could be improved:

One of the important findings from the survey was that our communication with customers could be improved and that our messages could be clearer. A few people were confused about the messages they received or thought they were spam.
Parcel retrieval was easy and intuitive:

Contrary to the previous point, however, retrieving the package from the robot was easy and simple for most people. For this, we got an overall score of 4.5 out of 5.
The robot integrated well into pedestrian traffic:

Overall, the robot didn't disturb residents & didn't affect their movement. From those who encountered the robot, 83% felt it didn't affect their movement. From the others, some went closer to take a look, while others went around it.
Convenience is one of the most important motivators:

Most people are interested in autonomous deliveries for their convenience, flexibility, and proximity. These were the most important benefits our respondents identified, in addition to their interest in trying new services.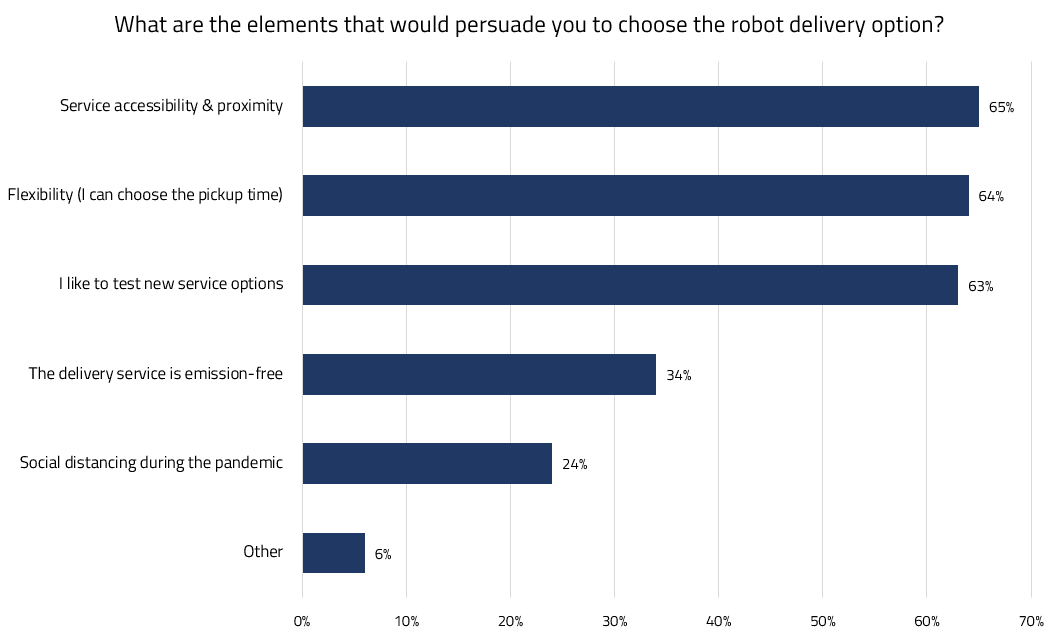 Convenience (service availability, flexibility) is the most important motivator for respondents
People were most worried about parcels being stolen or lost:

The most important concern our survey uncovered was that parcels could get lost or stolen if the robot malfunctions or is vandalized.

There's an interest in grocery delivery as well:

Grocery delivery is very expensive in Finland, so some respondents expressed that an autonomous delivery solution could be a good alternative and help make grocery deliveries cheaper.
Key topics we identified in the survey
Let's now look into the specifics of the responses we got, by topic.
General acceptance
Overall, most respondents saw autonomous deliveries as a positive development in an urban context (score of 4 out of 5). Many would be interested in using an ADR as a delivery option and would take advantage of it if it becomes widely available in the city (score of 3.9 out of 5).
Some felt autonomous delivery wasn't needed in this part of the city: 31 people considered they already had sufficient delivery options in the area of Jätkäsaari, and 20 said they'd prefer to pick up their shipments from a pickup point. In fact, delivery options in the area are expanding, as Jätkäsaari itself is undergoing rapid development.
This confirms our intuition that autonomous delivery robots can be particularly useful in areas where other delivery options are few and far in between.
One resident pointed out that the robot "could operate in sparsely populated areas and suburbs", and that they miss "a solution for expensive grocery shopping deliveries". And indeed, as previously mentioned, grocery deliveries are still very expensive in Finland, which is a problem that autonomous robots could help solve.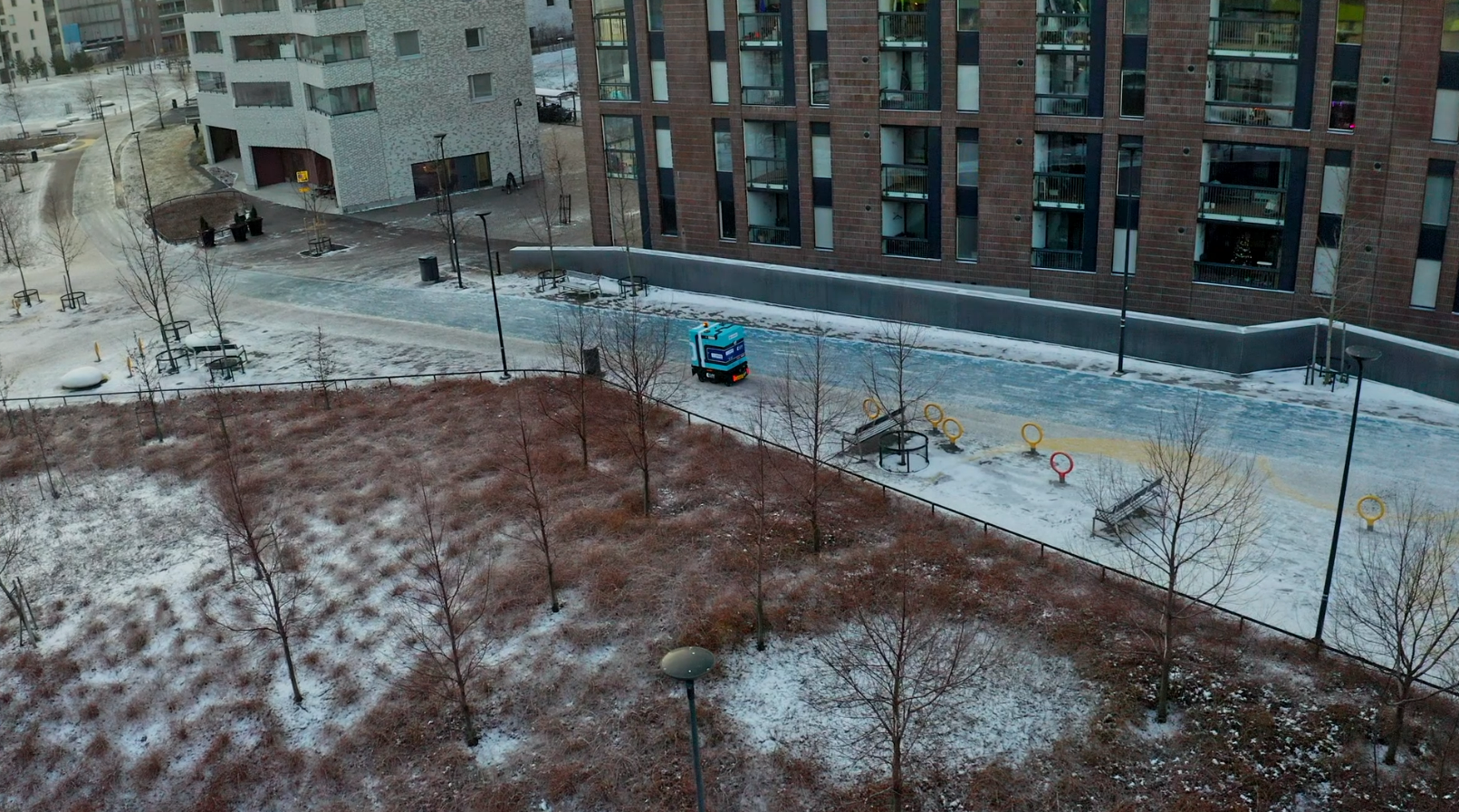 The robot in action during our pilot experiment in Helsinki, Finland
The convenience of autonomous deliveries
In 2022, customers want and expect convenience, and a delivery robot can give them exactly that.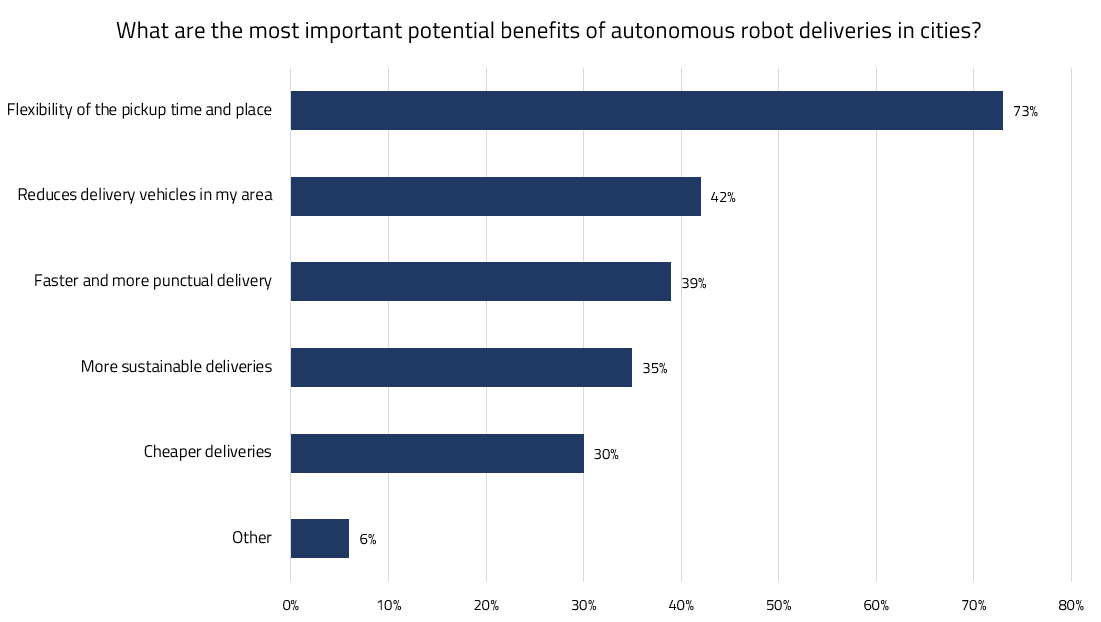 Key benefits identified by our respondents
For most respondents, convenience was one of the most important factors that motivated them to choose an autonomous delivery service: approximately 70% of all respondents pointed out that the biggest advantage of delivery robots is that they bring more choice and flexibility to delivery times and pickup points:
Delivery location:

Many (73 respondents out of 102) were particularly interested in the possibility of having their parcels delivered to their doorstep.

Delivery times:

For the majority (87%) being able to receive deliveries according to their own preferences and on their own schedule was important.
This shows that flexibility is highly valued by customers, and is also a meaningful way in which delivery companies could provide a better service by harnessing the potential of autonomous delivery.
Communication
One of the important lessons for us from this experiment and from the survey's results was that communication with customers is very important. Indeed, with spam messages on the rise, many people felt that the messages and links we sent them weren't clear or didn't feel trustworthy.
For people who didn't choose LMAD as a delivery service, one of the reasons was that URLs and SMS messages they received looked fishy.
We're definitely taking this feedback to heart and will aim to improve communication in our next experiments substantially.
Communication with the robot itself was easy: retrieving the package from it (using the touch screen, entering the PIN code, opening the door) was perceived as simple and intuitive (score of 4.5 out of 5).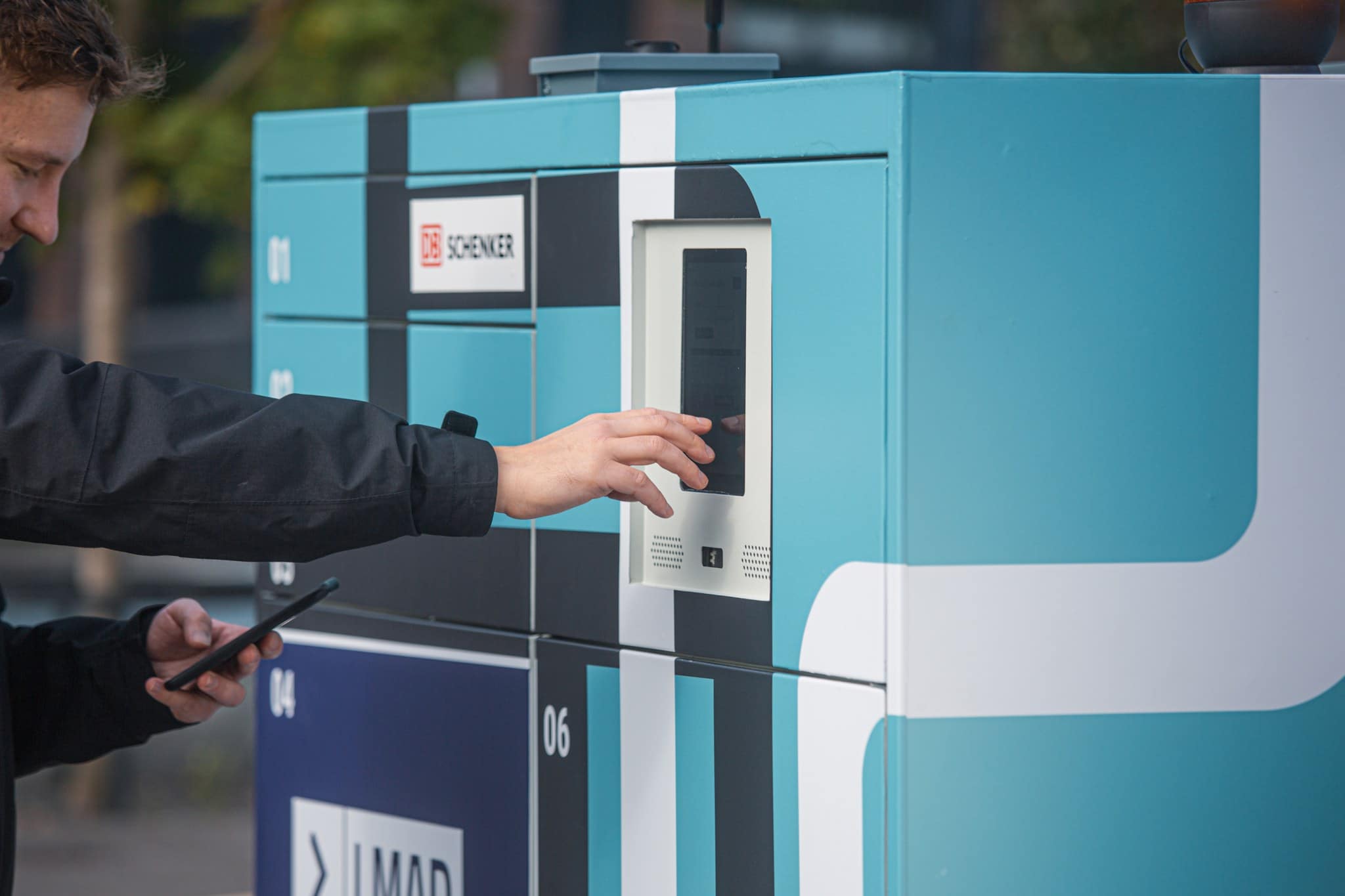 A customer picking up a parcel from our autonomous robot (photo by Vesa Laitinen)
Sustainability
The distribution robot is seen as an environmentally friendly addition to existing transportation services (score 4 out of 5), but contrary to what we expected, sustainability wasn't identified as a key benefit by most respondents.
Perhaps this is for two reasons: first of all, sustainability is not directly related to a specific pain point, and second, some people expressed reservations about the robot's sustainability.
One respondent rightfully pointed out that it'd be important to calculate emissions for the entire lifecycle of the robot (manufacturing, use, charging, recycling). Indeed, such a calculation is important, especially for large-scale deployments that could become reality in a few years from now.
Nevertheless, the second most important benefit (after the convenience of deliveries) for 40% of the respondents was the fact that delivery robots could help alleviate traffic congestion in their area. Otherwise said, autonomous delivery is not instantly identified as an environmentally friendly delivery option, but its results are seen as beneficial for both the city and the environment.
Safety
The robot was generally perceived as safe for pedestrians (with a score of 3.9 out of 5), but some respondents (approximately 30%) felt that road safety could be a concern for cyclists, especially if the robot operated on the bike path. On the other hand, the possibility of the robot malfunctioning was seen as a potential danger by 37% of respondents.
It's interesting to note that residents were also concerned about the safety of the robot itself: 63 people feared it could be vandalized, resulting in lost or stolen parcels.
One respondent pointed out that security could be improved with cameras, while another one said that the robot itself could also be used for surveillance at night. This, in fact, is a use case we're currently working on in our experiment for EDF in France (at an industrial site).
Accessibility
Accessibility is an important point, and definitely worth looking into. Some of our respondents were particularly interested in autonomous deliveries as a means of improving accessibility for people with reduced mobility. As one respondent pointed out, "A delivery robot can be a very good option for people with reduced mobility or the elderly who do not have so many other options to pick up orders".
Indeed, autonomous vehicles can help bring deliveries closer to people and improve the availability of delivery services that might otherwise be out of reach. Others were interested in whether wheelchair users, for example, could benefit from autonomous deliveries.
Conclusion
We learned a lot from this survey and would like to thank all respondents who participated in it.
This helped us confirm some hypotheses we had: for example, that convenience and flexibility are extremely important for customers, and that they're looking forward to robots delivering parcels to their front door.
This also shows that autonomous deliveries can be an important differentiator for retailers and logistics companies, helping them significantly improve their delivery services and achieve better customer satisfaction.
It also helped identify some common concerns that the residents of Helsinki had, regarding road safety for cyclists, the safety of their own parcels, or even the sustainability of autonomous delivery.
Overall, most participants see autonomous delivery as a positive development – and one that is fun, interesting, innovative, and functional. The robot itself was perceived as funny and sympathetic, and many people expressed an interest in either trying it out or continuing to use it as a delivery option.