All news
LMAD's autonomous robot delivers 100+ parcels to customers in Helsinki
Published: February 18, 2022 - Last updated: January 13, 2023
Deliveries: More than 100 parcels were successfully delivered to Jätkäsaari's residents
Retailers: 10+ online stores
Area: Jätkäsaari, Helsinki (a residential area of 10,000+ inhabitants)
Participants: LMAD, DB Schenker, GIM Robotics, Forum Virium Helsinki
Distance covered: 40 km in 27 delivery rounds
Timeframe: 7 weeks
In November and December 2021, we conducted a pilot experiment in Jätkäsaari, Helsinki, where we tested whether a robot could deliver parcels to the area's residents.
The experiment was conducted in partnership with DB Schenker, who were looking to test new delivery options in the area.
In addition to that, Finland is one of the countries in the EU where it's possible to conduct experiments with delivery robots as of now, which has allowed us to conduct this pilot in a public area (after being granted a number of permissions). Legislative restraints are often a challenge for last-mile autonomous delivery deployments.
The challenges
E-commerce is rapidly growing in Finland (as everywhere else in Europe), which means that customers are also demanding faster, easier, and cheaper delivery options. Finnish residents are often using delivery points to fetch their parcels, as home delivery remains expensive.
Limited delivery options in residential areas
Jätkäsaari is a large residential area (with a population of 10,000+), but its residents have rather limited delivery options. In the area where our robot operated, DB Schenker currently has one kiosk that is distributing parcels.
For this reason, DB Schenker was interested in expanding their delivery options in the area via a delivery robot that would stop at pre-set delivery points closer to people's homes. Their goal was to provide delivery options that are more convenient for end customers and improve the overall customer experience.
The impact of deliveries on cities' carbon footprint
Finland is aiming to achieve carbon neutrality by 2035 and is actively supporting initiatives that could help achieve this goal. Helsinki's goal is to become carbon neutral by 2030.
Traffic automation, which also includes autonomous deliveries, is one of the ways to help minimize pollution, as the Finnish Ministry of Transport and Communications have pointed out in their recent report on the topic.
LMAD's experiments were featured in the report as an example of a solution that could help reduce carbon emissions in cities.
The experiment
In view of the challenges above, last year, we set out on a mission to test an autonomous delivery robot in a real-life situation, and see whether it can help DB Schenker expand their delivery options in Jätkäsaari, and potentially in other densely populated urban areas in the future.
For this, our robot delivered parcels to end customers in Jätkäsaari over 7 weeks in November and December 2021.
The parcel deliveries
The service was similar to picking up a parcel from automated delivery hubs: after choosing LMAD as a delivery option, customers received a message or an email with a link to book a time slot and a delivery location.
The available time slots were:
Midday

Mid-afternoon

Early evening (after 5 pm), which was the most popular
The robot spent about 15 minutes at each delivery location, before moving on to the next one. To open the robot's lockers, customers needed to enter a PIN-code they had received via text message just before the robot got to their pickup point. If a recipient didn't show up, then we'd deliver their parcel to the standard delivery pick-up point in the area, R-Kioski.
Unlike static delivery hubs, the robot came closer to customers' doorsteps and at the exact time slot that the recipient selected.
The technical details
For this and for other experiments our robots are using:
Lidar sensors

Ultrasonic sensors

Millimeter-precision Real-Time Kinematic (RTK) positioning

4/5G network connection

Simultaneous Localization and Mapping (SLAM)
The combination of these technologies allows our robot to safely navigate complex urban environments.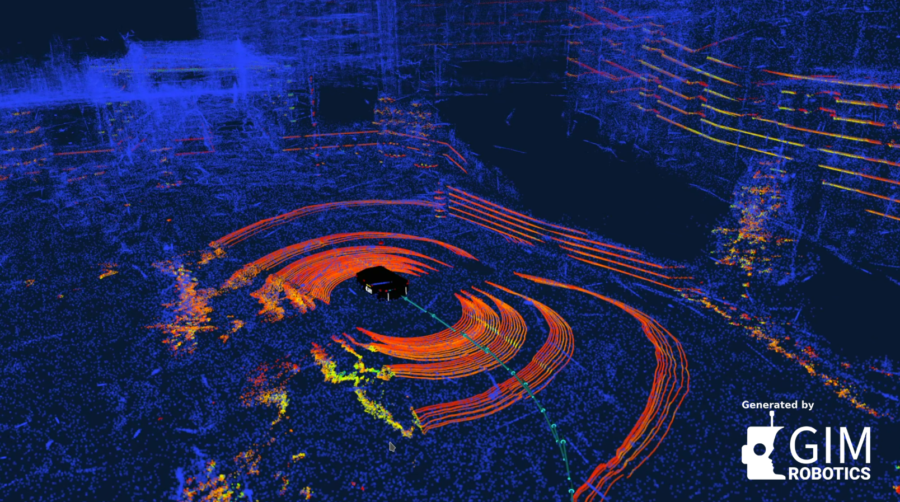 Footage from point cloud maps from the experiment
The GIM Robotics robot that we deployed in this pilot has 13 lockers and moves along a pre-defined path between delivery spots.
The operational side of the pilot experiment
We integrated with DB Schenker's parcel management system and LMAD appeared as one of the available delivery options on e-commerce websites such as:
H&M

Adlibris

Makia Clothing

Finlandia Kirjakauppa
For many customers, this delivery mode was a surprise: they didn't expect a delivery robot to show up at the delivery location. Although sometimes they weren't prepared to interact with a robot, nearly all interactions were seamless and our operator barely needed to intervene.
There was a mobile hub at the edge of the operational zone where the robot was staying overnight and where it met with the DB Schenker courier van for loading.
The participants in the experiment were:
LMAD

, who organized the experiment and managed the operational side of it

DB Schenker

, who used the robot to deliver parcels to their customers

GIM Robotics

, the robotics company that has built the robot and its autonomous software, and provided operational support

Forum Virium Helsinki

, the innovation hub of the City of Helsinki, for all-around support and assistance, including the use case design, city permits, promotion, networking, and many other practical details
Key results
The results of our pilot experiment in Helsinki are promising, and we're looking to build on them when designing and carrying out future experiments.
Customer interactions & parcels delivered
The robot delivered over 100 parcels in 27 delivery rounds in 7 weeks. Most customer interactions were quick and easy, and we are learning and improving our communications from the feedback we got along the way.
During the experiment, the robot was accompanied by an operator who monitored the robot's activities and ensured its safe movement. The operator did not have to intervene in delivery situations, and these were seamless.
The robot's presence in the city
The robot attracted the attention of passers-by, and especially of children, who were excited to see it zip through parks and on the street.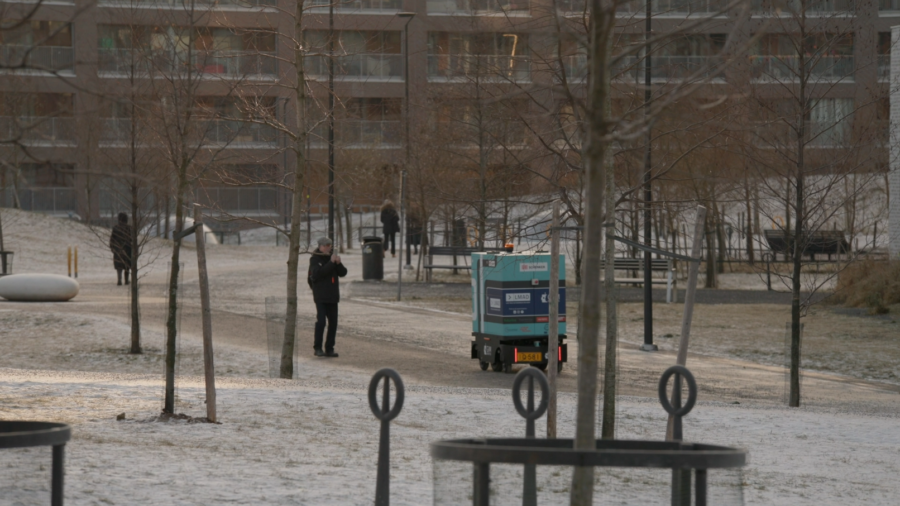 The delivery robot attracted the attention of passers-by
Dozens of dogs interacted with the robot, as well: they were usually puzzled by it, occasionally frightened or curious, and some would even try to attack it. But in the end, all interactions were smooth, and no dogs or robots were hurt.
The impact of weather conditions on the experiment
Although we were operating in November and December in Helsinki, the robot was sufficiently winter- and weather-resistant: we had to stop operations only for 3 days due to bad weather, out of a month and a half in total.
The robot dealt well with:
Heavy rain

Wind

Snow (except for compressed snow or ice on the ground)

Freezing temperatures
The operational side
The robot covered a distance of more than 40 km in total during the actual autonomous delivery operations. It had five delivery stops in Hyväntoivonpuisto, facilitating deliveries to customers by bringing their parcels closer to their doorsteps. Each delivery stop was around 3-400 m from the previous one.
Construction works prevented us from reaching all parts of the area, but often the delivery spots were right in front of customers' residence buildings.
We have integrated with DB Schenker through their regular pickup point management system, but given that our robot was not tied to one single physical location, we took over the communication with customers to offer the various pickup options available.
We handled all communication with customers, such as:
Booking a time slot and a delivery location

Sending timely notifications on delivery status, including their unique PIN-code to open the locker

Communicating with customers in case they didn't show up
Customers' feedback and the survey
During the experiment, the overwhelming majority of our customers' feedback was positive. Occasionally, there was some confusion or surprise, which means that we can further improve communication.
Forum Virium Helsinki and the Hanken School of Economics (Hanken Svenska Handelshögskolan) had set up an online survey to find out more about local's general views on autonomous delivery and to collect feedback about customers' experiences if they took part in the pilot experiment.
You can find the results from the survey in our article about what Helsinki's residents think of autonomous deliveries.
The next steps
This experiment is a part of our ongoing cooperation with DB Schenker, which we'll continue to actively develop and grow. In the future, we're looking to:
Build on the results of the experiment to expand the service and the area

Add new robots and scale operations

Conduct future experiments, either for similar or for new use cases

Adapt our delivery service based on the results of the survey.
In the next few months, we'll be sharing the specifics of our future experiments and deployments, and we're working on actively growing our operations. Stay tuned for more info!
—
LMAD aims to develop and market a software platform for managing, controlling, and optimizing the use of autonomous delivery robots for the last mile. LMAD is responsible for the operation of this pilot experiment, in cooperation with our partners (DB Schenker, Forum Virium Helsinki, GIM Robotics).