All news
Autonomous delivery in North America, Asia, and Europe
Published: May 2, 2022 - Last updated: November 4, 2022
The autonomous delivery sector is rapidly growing across the globe, but the speed of growth, the size of investments, and the challenges it faces are different everywhere.
The investments in logistics startups in 2021 have nearly doubled, compared to 2020, according to a recent McKinsey report.
Supply chains suffered increased pressure during Covid-19, which motivated retailers and logistics companies to explore for alternative delivery methods. This has resulted in an increase of investments in the logistics sector and in new and innovative solutions for the last mile.
In this article, we'll look into some of the major differences between autonomous delivery in North America, Asia, and Europe, in terms of investments, legislation, and maturity level.
Investments and number of start-ups in the last-mile delivery sector

North America dominates the autonomous delivery market – according to Technavio, the predicted growth contributed by North America for 2020-2024 is 44% of the global market, with its two major players, the US and Canada. This is confirmed by Deloitte: investments in the last-mile sector in North America for 2020 were $9,4 billion, compared to $2,9 billion in Europe (for both autonomous and non-autonomous delivery methods). The number of startups in the last-mile delivery sector in North America is also impressive: 568, compared to 60 in Europe.
The Asia Pacific market is somewhat comparable to North America, at least in terms of investments: $8,3 billion for 2020. The number of startups is similar to Europe, though: 81.
The startup culture of the United States is different compared to other parts of the world and could be described as less conservative, particularly in centers of technological innovation such as Silicon Valley, where startups tend to aggregate. There are many reasons for this, but legal support, easier access to financing opportunities, and business networks play a major role.
Considering this, the number of startups in the autonomous vehicle sector in the US isn't surprising: 218, according to Tracxn, and 568 startups in the last-mile sector (which includes autonomous and non-autonomous delivery methods). In the next few years, North America will probably continue to lead the way.
It's clear that Asia and the United States are ahead of Europe in terms of the number of experiments, test deployments, and commercial operations in the past few years, and not surprisingly, in terms of investments, too. This is favored by a much more flexible regulation and less densely populated spaces than in Europe.
However, European startups like LMAD have been very active in building green fleets and paving the way toward testing and deploying last-mile delivery solutions operated by autonomous vehicles.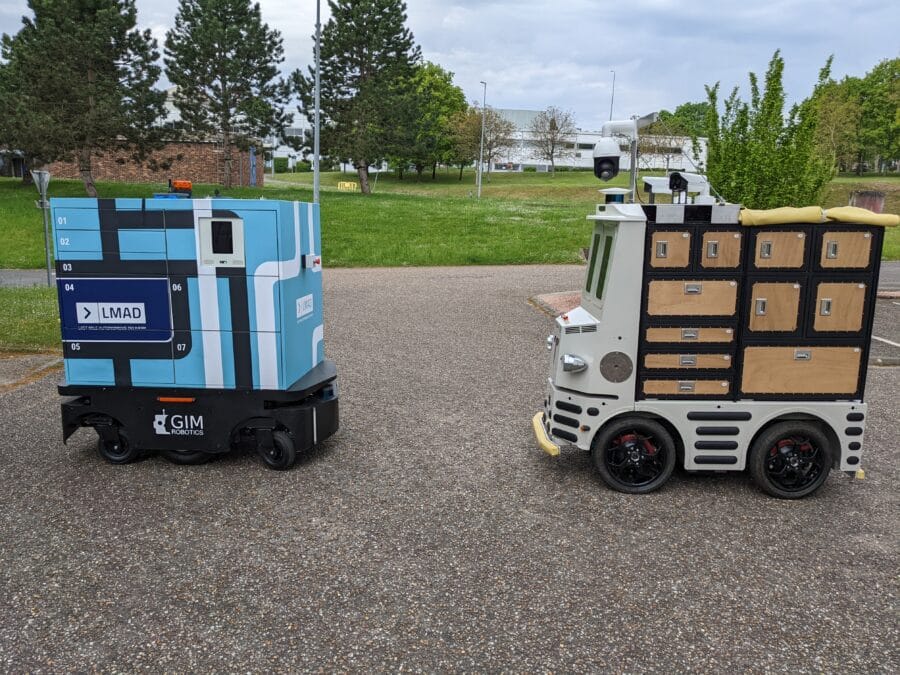 LMAD's two robots (by GIM Robotics and TwinswHeel), side by side, at the EDF Lab Les Renardières, Écuelles, France
In Europe, the market is yet to achieve its potential and reach a similar level of maturity as in North America and the Asia Pacific region, but it's certainly moving in this direction and investments are picking up. Venture capitalists are keeping a close eye on the last-mile delivery market, as evidenced by the successful funding rounds of startups like Getir, Gorillas, and Flink. Sure, these are companies for crowdsourced delivery, but automating different aspects of the delivery process is only a matter of time.
The major topics and axes of development that Deloitte has identified in Europe are green fleets, crowdsourced delivery, and pick up and drop off networks: Europe is more concerned with sustainability and creating local networks than with autonomous fleet manufacturing, for example (as is the case with North America).
Indeed, sustainability is a major focus for us, as well: Finland is set to achieve carbon neutrality by 2035, and our latest experiment in Helsinki is one of the initiatives that help make progress towards this objective.
Legislation for autonomous vehicles and autonomous delivery robots

Legislation is a crucial element that can either halt or speed up progress in the autonomous delivery sector: It outlines the specific conditions and sets the limits of testing and commercial deployment operations. Because of this, local regulations are a major consideration for companies working in the sector.
We've already covered the differences in legislation between the US and Europe extensively in our blog, so here we'll make a recap.
In the United States, legislation is more advanced, in many areas permitting the commercial deployment of driverless last-mile delivery fleets either on sidewalks or on roads. In fact, in many EU countries, autonomous vehicles for the transport of passengers and autonomous delivery robots are often grouped together, which slows down progress. US legislation is more flexible and readily recognizes the differences between the two.
Nevertheless, regulation is not synchronized across different US states. The variations between maximum speed and weight are significant from state to state – for example, in Pennsylvania, the maximum sidewalk speed is 12 mph (~ 19 km/h), while in Washington it's 6 mph (~ 9.5 km/h). This makes it extremely challenging for autonomous delivery companies to design and execute country-wide deployments.
In fact, the same is valid for autonomous vehicles that transport passengers. The current patchwork of regulations is problematic for AVs, too, especially in instances when large-size deployments cross state borders.
Eric Tanenblatt, global chair of public policy and regulation at Dentons, believes that at some point in the near future, the federal government will need to step in and create a broader regulatory framework to synchronize requirements for autonomous vehicles (for cargo or passengers) across states.
In the European Union, there's no high-level regulation for autonomous delivery vehicles in public spaces at the moment. As a result, the opportunities for experimentation and commercial deployment operations vary significantly across countries.
In addition to that, city councils are often hesitant to allow testing in public spaces, even if national regulations allow it. In the EU, sidewalks are narrower, cities are more densely populated, and the use of public space for recreation is widespread.
The European Commission has, however, issued recommendations to EU states to look into transport automation's potential and to rethink mobility systems in its Coordinated Plan on Artificial Intelligence (AI) from 2021. The EC sees AI and robotics as heavily underutilized technologies that can revolutionize the transportation and delivery sectors and bring important benefits in terms of sustainability and economic growth.
In many Asian countries, legislation is being adapted to accommodate autonomous delivery vehicles in public spaces. China is making efforts to develop and support the autonomous driving and delivery sector by adapting regulations and policies to enable testing and experimentation, including the testing of robotaxis in Shanghai or of driverless vehicles on highways and roads.
JD.com (China's largest online retailer), along with robotics and delivery companies Meituan and Neolix, were among the first companies to receive road test licenses for autonomous delivery vehicles in 2021; JD.com, in particular, is operating in more than 20 Chinese cities and uses autonomous robots to deliver parcels to customers.
South Korea is also working on creating a legislative framework to enable autonomous delivery companies to test and deploy robots on public roads as early as 2023.
In Singapore, the Land Transport Authority (LTA) has been working since 2014 to transform land transport with the help of AVs; the Singaporean government is committed to transforming the country into a local and global eCommerce hub. Several pilot experiments are underway, for example, in residential areas such as Punggol.
Japan also has a very progressive stance on autonomous vehicles and is one of the few countries where they're allowed on roads not only for testing.
The current stage of maturity

Autonomous delivery in Europe is progressing at a slower pace, compared to the US or some Asian countries, due to the rather conservative approach toward autonomous delivery legislation. This is not surprising, however, as Europe is more densely populated and access to historical centers is often tightly regulated.
Nevertheless, we're seeing a growing interest in last-mile autonomous delivery solutions in Europe, one of which is LMAD, operating in France and in Finland.
Many projects across the continent are at the experimentation stage, but some are moving towards commercial deployments, as well. For example, the Swiss courier company Planzer Parcel purchased a few of Udelv's Transporters to implement in their delivery process as early as next year.
In the US, we have many experiments and deployments, both at a small and at a larger scale, namely by companies like Starship Technologies, Nuro Inc, and Udelv; university campuses are often used for larger-scale projects, especially by Starship Technologies, as they have the advantage of being a private environment with low traffic density and high delivery needs.
In Asia, indoor autonomous delivery is a major market that has already reached a relatively high level of maturity, which was further sped up by the demand for contactless deliveries during the Covid-19 pandemic. In China, Pudu Technology, Keenon Robotics, Excelland AI, and YOGO are the major players in indoor delivery, operating in restaurants, hotels, office buildings, hospitals, and more.
Outdoor autonomous delivery is also rapidly growing in size and importance, with companies like JD.com, Meituan, Suning, Neolix, and China Post.
Constrained by imperfect policies and regulations, technology, and scenario configurations, outdoor autonomous delivery vehicles still mostly operate in pilot experiments.
Overall, across all regions, companies are still constrained by imperfect legislation and by different infrastructural challenges, but the sector is making rapid progress, and the expected compound annual growth rate (CAGR) is expected to be around 19% between 2021 and 2028 for Europe and 24% for 2021-2030 globally.
By 2030, retail is most likely to be the most lucrative segment in the last-mile delivery market, followed by food and beverage delivery. This confirms our findings, on a much smaller scale, from our most recent survey of Helsinki's residents, who were most excited about the possibility to receive online purchases on their own schedule, but also expressed a strong interest in grocery deliveries.