All news
Delivery robots vs. drones for the last mile: What's better?
Published: November 14, 2022 - Last updated: November 29, 2022
The last mile of delivery is expensive for retailers and logistics companies – arguably, it's the most expensive segment of delivery – so, many businesses are looking for ways to optimize their delivery operations and make them more scalable.
At the same time, the increasing demand for last-mile delivery is contributing to cities' congestion and pollution, as delivery vans continue to drive through city centers to reach customers.
So, could battery-powered, unmanned delivery robots or drones take on deliveries to make them greener, more efficient, and more convenient for customers? And if yes, which option shows more promise, delivery robots or delivery drones?
In this article, we'll look into the details and see how the two options compare – and which one shows more promise for the near and medium-term future of the last mile.
Drones vs. robots for the last mile of delivery: Which option shows more promise?
Drones and robots have the capacity to solve many of the challenges of last-mile delivery by providing an autonomous and highly convenient delivery service to customers. Both can cover large areas, reduce delivery times, and have the potential to become more sustainable and cheaper than standard delivery options in the future.
And, what's perhaps more important for businesses, both could offer on-demand express delivery in the future.
Indeed, same-day delivery is a growing trend and many retailers see it not only as an opportunity but also as a necessity to maintain customer satisfaction. According to a study by Invesp, 51% of retailers plan to offer same-day delivery within the next 2 years, while 61% of customers are willing to pay a premium for this service.
In addition to that, customers are excited about the novelty of both drone and robot deliveries; according to one survey by Clutch, 36% of customers said they'd be more likely to make a purchase if it would be delivered by drone. When surveying Helsinki's residents about robot deliveries, a similar trend surfaced: 69% were interested in trying a new service.
However, apart from the novelty factor, how likely are we to start seeing drones or robots actually delivering parcels to customers in the near future?
Of the two, delivery robots are closer to reaching maturity, especially for deliveries in densely populated urban areas. Multiple robot experiments and even deployments have been taking place in the past few years in both Europe and the US, despite the fact that the European regulatory environment is still rather restrictive in most member states.
LMAD has conducted multiple experiments in Helsinki, Finland; our most recent public-space pilot took place last winter, and future experiments are currently underway. Many other companies have conducted experiments in urban areas, including FedEx and DEKA, Foodora and TERAKI, and many more.
Airspace restrictions are a serious obstacle to the development of drone delivery operations at scale in most urban locations. That's a much more prohibitive limitation than the lack of a well-defined legislative framework for delivery robots: In many countries, drones are not allowed to operate in urban areas, which is different from the simple lack of legal recognition of delivery robots.
We could therefore argue that while robots will slowly gain legislative ground, drones risk losing it, at least in the foreseeable future.
Additionally, for the moment, there's a stronger investment interest and more funding available for companies that develop robots or software for robots, compared to drone startups, according to a report from Styleintelligence from October 2022.
However, it's important to note that drones, as McKinsey & Company points out, could provide better service coverage in rural and suburban areas.
Such areas aren't always well served by traditional means of delivery and are out of reach for smaller delivery robots – and especially if the road network isn't well developed, drones could be the only comprehensible solution, both for emergency deliveries and standard commercial operations.
To conclude, we could say that both robots and drones have their place in the supply chain and both could serve different purposes. In that sense, they're not really in competition with each other and large logistics companies could benefit from them for different use case scenarios.
Delivery robots for the last mile
Delivery robots can be used to deliver parcels, groceries and even hot meals from delivery hubs, larger delivery vehicles, or even what's commonly known as "dark stores", i.e. stores that are closed to the public and which serve as storage facilities in close proximity to customers' homes.
In general, delivery robots are used for a lower range of delivery and use cases look something like this: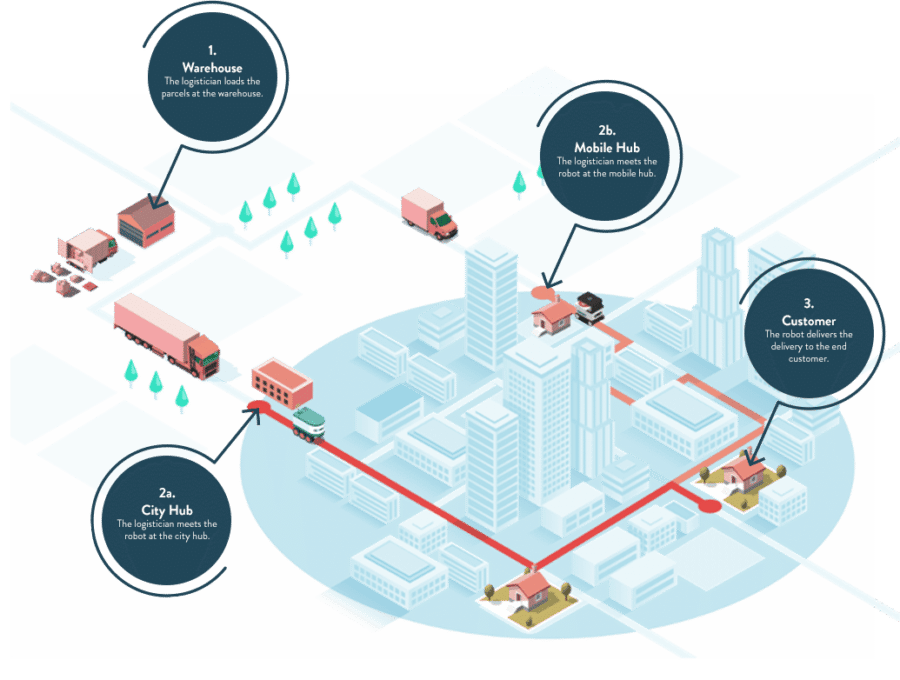 Where delivery robots receive parcels at a city hub (2a) or a mobile hub (2b) and then deliver to end customers (3).
The advantages of delivery robots
Delivery robots have a number of advantages for the last mile of delivery, as they:
Are very convenient for customers, delivering parcels to their doorstep at a preset time

Can work autonomously day and night (and could, for example, also service stores for inventory replenishment early in the morning)

Relatively easy to deploy, especially in private campuses

Can easily adapt to different use case scenarios

Are an environmentally-friendly delivery option and help reduce traffic congestion and pollution

Are more silent than delivery vans or drones

Are closer to maturity than drones

Are progressively being recognized by governments around the world
The disadvantages of delivery robots
On the other hand, robots also have some disadvantages that are important to note; notably, they:
Might be inconvenient in cities with narrow sidewalks or lots of foot traffic

Aren't yet authorized to operate in public areas in many parts of the world

Usually have a lower operating speed and range

compared to drones

Haven't yet reached full maturity both in terms of technology and legislation
Drones for last-mile delivery
In drone delivery, the drone receives its payload from certified staff at a designated take-off/landing area, flies to the end destination, and drops its payload via an extensible cable to reduce damage risk.
You can see what the process looks like in a video from a Walmart deployment here:
Indeed, large companies are investing in drone experiments – besides Walmart and their partnership with DroneUp, we also have Wing, a subsidiary of Alphabet (Google's parent company) that has also conducted a number of drone experiments.
In fact, Wing reached the impressive number of 200,000 deliveries earlier this year (the bulk of them in Australia). And, in recent news, it has partnered with Amazon to provide drone delivery for end customers in parts of the US.
However, there are a number of constraints that limit the deployment of delivery drones, such as:
Functional limitations

, such as landing space, security, payload's size and weight, as well as strong wind and rain

Regulatory restrictions

, given that in many locations drones are currently not permitted and that flying over residential areas can require additional special permits (or be very limited if not impossible)

Costs

, which can be absorbed at the moment only by large companies like Alphabet and Amazon
Drones' advantages
Drones do have advantages for last mile deliveries, as they:
Can be convenient for deliveries in remote and suburban areas

Provide fast delivery, especially in areas where delivery service is limited

Can be used for emergency deliveries, f.e. of medical supplies

Are able to deliver autonomously at any time of the day
Drones' disadvantages
On the other hand, drones aren't necessarily fit for large-scale deployments yet, because they:
Are unlikely to receive a permission to operate in densely populated urban areas

Are noisier than delivery robots

Are inconvenient for multi-storey buildings

Have a more limited payload compared to delivery robots (both in terms of weight and size)
In addition to that, the legislative framework for drone deliveries is practically nonexistent in many countries; drones for recreational purposes (photography, videography) are restricted in different areas.
What other options exist?
For different use cases and scenarios, different autonomous options can be a convenient solution. Delivery vehicles or trucks can also speed up and optimize delivery, especially when used in combination with robots or drones.
For example, in the latest series of demonstrations of the LogiSmile project, developed under the lead of CARNET, in which LMAD is participating as a partner, two delivery vehicles have been shown in action, PLUTO and ONA.
PLUTO is the delivery vehicle used as a distribution hub, while ONA is the smaller robot that takes on parcels from Pluto and delivers them to customers. Below you can see both in action: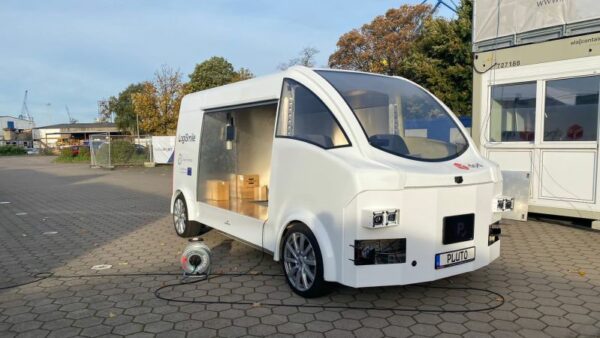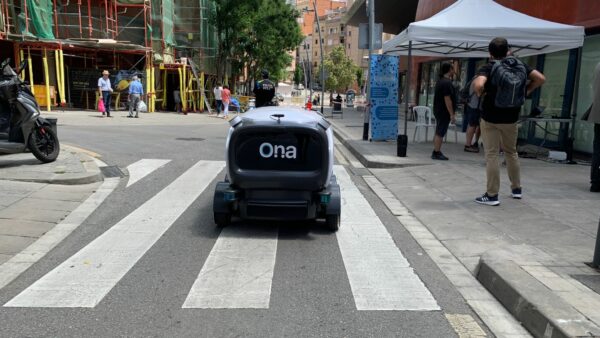 Delivery drones and robots serve different purposes and each have their place in the supply chain
Although both delivery robots and drones haven't yet reached maturity, we could say that both could have their place in the supply chain and be used for different purposes and use cases.
Drones are more suitable for deliveries to remote locations in suburban or rural areas and can be invaluable in emergency deliveries, such as, for example, of medical supplies or disaster relief aid or equipment.
Delivery robots, on the other hand, have a good chance of integrating well in an urban environment, even in densely populated areas, and provide convenient delivery options to customers.
In both cases, customers are enthusiastic and curious about these emerging alternative delivery methods and are eager to try them.
Drones' radius of operation can be larger and they can also be faster but they're unsuitable for densely populated areas and their payload is usually smaller. Once the cost barrier becomes sufficiently low for robots and drones to become viable delivery options for large-scale deployments, companies might very well decide to create hybrid fleets and use them for different purposes.