All news
The role of the last mile in the digital transformation of the logistics sector
Published: April 30, 2021 - Last updated: September 14, 2022
With 85 million daily deliveries worldwide, it's easy to see why last-mile delivery is a key touch point between businesses and their customers, and one of the key drivers of the digital transformation of the logistics sector.
Arguably, it's among the most important points of contact in both B2C and B2B deliveries. First impressions, high quality, and impeccable customer service are crucial, of course, but if you fail to deliver the goods your customers have ordered in a timely & convenient manner, you won't be able to make up for that in future interactions: there probably won't be future interactions to begin with.
The last mile is probably what customers will remember best, and seamless delivery is a must.
Next-day deliveries are becoming the norm, and customers' expectations are high. Same-day delivery will soon become commonplace, according to McKinsey, combining the convenience of the online shopping experience with the immediacy of retail. To solve the riddle of providing convenient, cheap, and ecological last-mile deliveries to both business and end customers, logistics service providers need to find alternative ways to create and add value.
New means of delivery, such as autonomous vehicles and robots are one of the logical answers to this challenge.
The "business as usual" approach exposes logistics companies to a high risk of losing their relevance (and their customers)
Both sellers and logistics service providers need to transform their business processes in order to create a truly customer-centric experience, or else they risk becoming irrelevant.
As Accenture puts it in one of their recent reports, if the big players in the logistics industry persist in their "business as usual" approach, they might rapidly lose their competitiveness and simply be swiped out by younger, more agile businesses who are eager to adapt. Thanks to the digitalization of the sector, small companies are now able to compete with giants in the battle to have global reach.
The challenges of the logistics sector, and of the last mile, in particular, are complex:
The h

igh costs of the last mile

Understaffing and unreliability, especially in times of crisis (such as the ongoing pandemic)

Limited access to both densely populated city centers and

remote rural areas

Increased customer demand for speedy and convenient deliveries.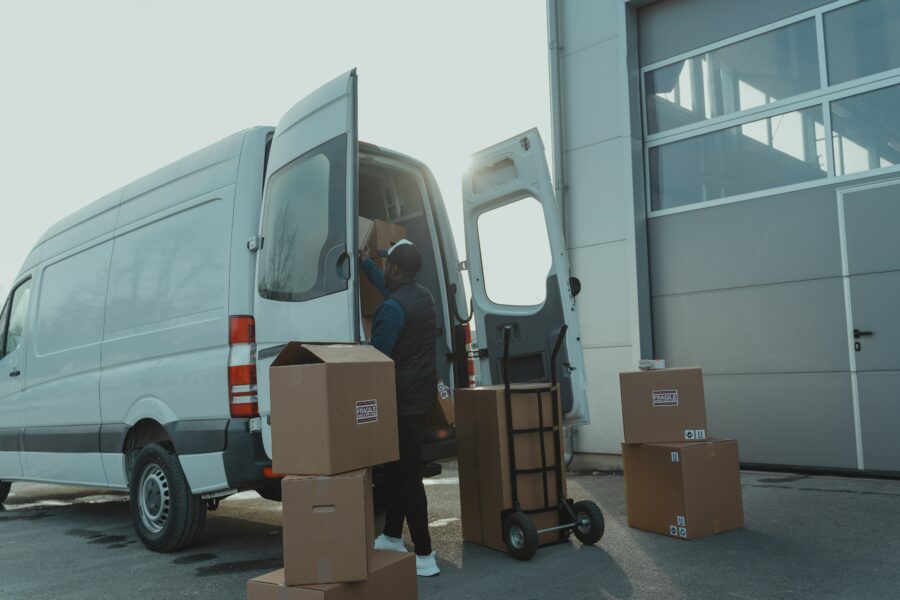 The digital transformation of the logistics sector faces many challenges
To respond to these challenges, the logistics sector needs to rethink and reinvent itself. This is best achieved through adapting to the ongoing rapid digital transformation that other sectors are undergoing—some of them, much faster than the logistics sector.
Key elements of the digital transformation of the logistics industry
There are several key elements that enable the digital transformation of the logistics industry, and that have the potential to revolutionize the last mile of the supply chain. Accenture, in the same report mentioned above, identifies a few of them:
Blockchain technology

Augmented reality

Robotics

Automation and autonomous deliveries

Digital/online platforms

Big data analytics, AI, and Cloud technologies

3D printing.
Of those, we've chosen to concentrate our efforts on autonomous robotic solutions for the last mile. Let's see the details.
The technology behind driverless vehicles is making enormous leaps every year and will continue to evolve rapidly. In its more thrilling (but also still somewhat anxiety-provoking) form, it's preoccupied with carrying passengers, and Uber and Google are in close competition.
In parallel to that, however, autonomous vehicles and robots that carry goods and deliver them to end customers are already in use in some areas, and their use (and availability) will explode in the near future. Starship, Nuro, JD.com and many others are already paving the way.
Robot-agnostic solutions like ours are currently being developed in Europe and in other parts of the world, for different use cases and needs. We aim to give logistics service providers and sellers greater flexibility, help them lower their delivery costs, and decongest city centers.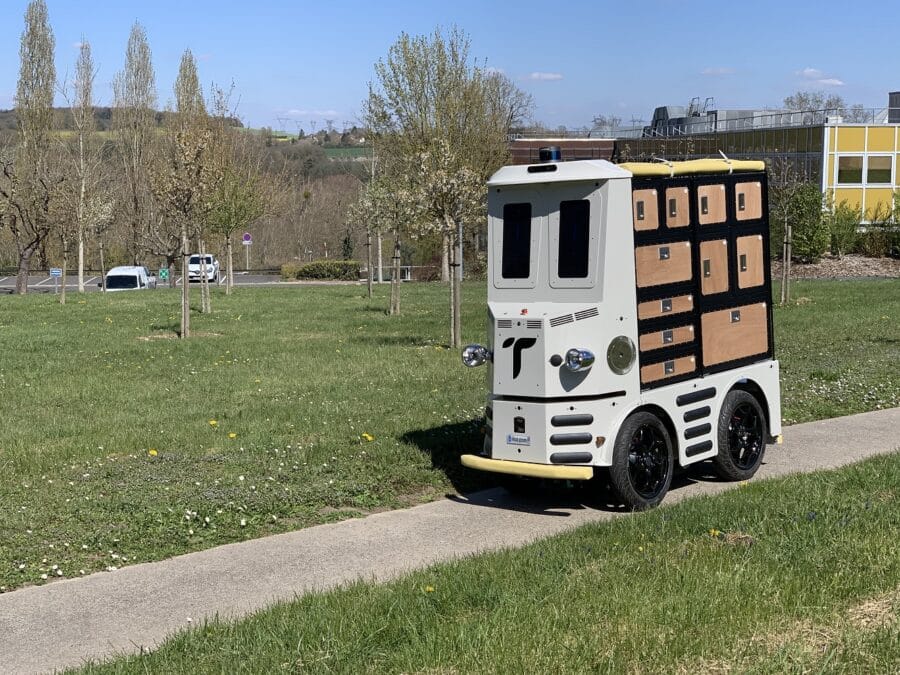 The newest robot to join LMAD's family in 2021, TwinswHeel's ciTHy L
A true digital transformation would mean reforming every aspect of the logistics sector and of the last mile. While mobile technologies and SaaS solutions have definitely been transformative in the past couple of years, the sector still has a long way to go. Last-mile delivery is still a complex, intermeshed ecosystem of diverse actors, networks, and interests, and the available or soon-to-be-available solutions are at a different level of maturity.
Deploying fleets of drones, robots, and autonomous vehicles, in addition to using Cloud-enabled software platforms and AI tech is likely what the next leaders in the logistics industry will all be doing—and the developments that will enable the mass implementation of these technologies are taking place at the moment.
Digitalization and the ecological footprint of the logistics sector
Another key element of the (extremely complex) puzzle of global logistics is its ecological footprint. And indeed, the last mile of delivery is a major source of greenhouse gas emissions: up to 30% of total emissions in cities like Thessaloniki, for example.
But where there are challenges, there are solutions, as well: The digitalization of the logistics sector can help it minimize its ecological footprint, and the role of the last mile is particularly important in this.
With the growing demand for deliveries, the number of delivery vehicles increases, as does the carbon footprint of the last mile. That is, unless logistics companies take measures to optimize deliveries, for example by implementing batch deliveries, using delivery hubs, or deploying autonomous robots (or a combination of these approaches).
If large, polluting delivery vehicles are replaced by electric robots, this further helps control emissions, and even completely eliminate them in the areas where robots are operating (robots themselves aren't yet carbon-neutral, as they take resources and energy to produce and power).
This is exactly what we studies with our 2021 experiment in Helsinki, in which an autonomous robot was deployed in the Jätkäsaari area, reducing pollution in the area itself. Helsinki's residents are particularly sensitive to this question, as evidenced in the survey we conducted after the experiment, and see last-mile delivery robots as one of the possible ways to mitigate the environmental impact of deliveries.
And indeed, robots can help reduce the environmental impact of deliveries for several reasons:
They're electric
They're much lighter than cars and vans, which means they consume significantly less energy
With the help of AI and machine learning technology, their routes can be optimized and shortened
Robots with multiple lockers make batch deliveries possible
They help reduce traffic congestion
While large-scale deployments are not yet a reality, through a series of recent changes in legislation, many countries are now progressively creating the right conditions to enable them. This, coupled with the digitalization of the logistics sector, helps pave the road to the reduction of its environmental impact globally, and allow for greener alternatives to develop.