All news
LMAD's 2022 in review: new robots, new experiments, and lots of new content
Published: January 12, 2023 - Last updated: January 12, 2023
This year, a lot of things happened for LMAD – and we're eager to tell you more.
In short, in 2022 we:
Conducted a survey with Helsinki's residents after wrapping up our successful experiment in December 2021

Participated in 3 demonstrations of two new robots, ONA and PLUTO, in 3 locations in the EU, under the LogiSmile project

Were selected for a new round of funding under EU's URBANE project to continue and broaden our cooperation with DB Schenker on last-mile autonomous deliveries in Helsinki

Were featured in Styleintelligence's report on the Autonomous delivery vehicles in 2022 and were present at a few key conferences

Produced lots of new content on the

environmental impact of last-mile deliveries

,

the cost of the last mile

, the top 5 reasons

to start experimenting with autonomous delivery robots

, and more.
So, let us tell you more!
First, we wrapped up our experiment in Helsinki and analyzed the results
After wrapping up our successful last-mile delivery experiment in Helsinki in December 2021, in early 2022 we analyzed the results and conducted a survey with local residents to see how they felt about robot deliveries.
In this experiment, we delivered 100+ parcels to residents of the Jätkäsaari area, one of the fastest growing urban areas in the city of Helsinki, in cooperation with our partner DB Schenker. Our goal was to help DB Schenker expand their delivery options in the area and study alternative delivery methods.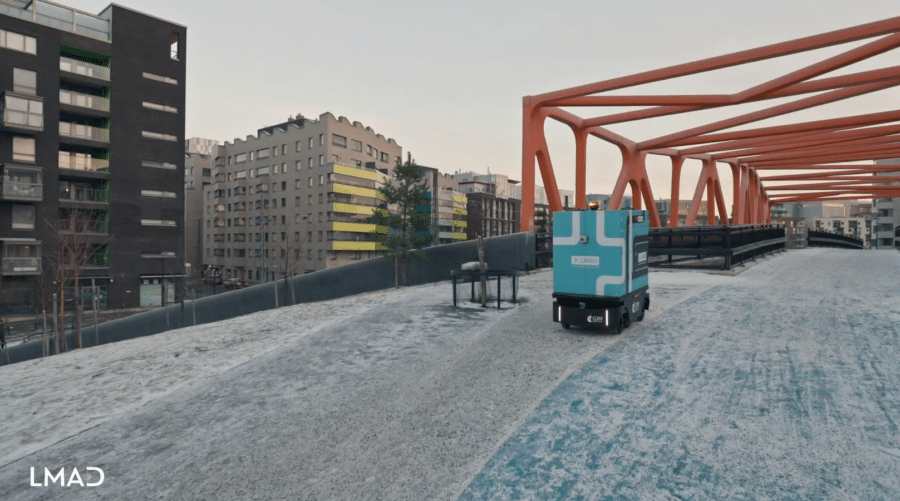 The robot on the streets of Helsinki during one of its delivery rounds
The robot made 27 delivery rounds, covering 40 km in 7 weeks. It came to customers' doorsteps, providing a convenient way for them to retrieve parcels when ordering items from H&M, Adlibris, Makia Clothing, Finlandia Kirjakauppa, and more.
At the end of the experiment, we conducted a survey in collaboration with Forum Virium Helsinki and the Hanken School of Economics (Hanken Svenska Handelshögskolan) to see how residents felt about the presence of the robot and autonomous deliveries in general. The results showed that:
Many had a genuine interest in trying a new service

Parcel retrieval was easy and intuitive (although we could improve communication further)

The robot integrated well into pedestrian traffic

Convenience is one of the most important motivators

People were most worried about parcels being stolen or lost

There's an interest in grocery delivery as well
Flexibility of pickup time and place was by far the most important benefit identified by the respondents of the survey. One of the conclusions of the survey is that autonomous deliveries can be an important differentiator for businesses, enabling them to streamline deliveries to end customers and achieve better customer satisfaction.
So, what's next?
In 2023, we'll concentrate on developing more use cases and furthering our partnership with DB Schenker, to help define the ways in which autonomous deliveries can help logistics companies provide a better service to their customers.
We worked on the LogiSmile project: 2 robots in 3 cities
In 2022, we took part in the LogiSmile project, led by CARNET and co-funded by EIT Urban Mobility. In it, two robots, Ona and Pluto, were tested in 3 different cities across the EU:
Barcelona, Spain

Hamburg, Germany

Debrecen, Hungary
The project aimed to demonstrate a fully autonomous delivery system, in which two different autonomous vehicles cooperate:
First, an autonomous hub vehicle (AHV), Pluto, brings parcels into the city

In the city, it meets smaller autonomous delivery devices (ADD), like Ona, that distribute parcels to end users
One of the main goals of the LogiSmile project is to show urban planners and administrators that autonomous vehicles and robots can be a safe, viable, and sustainable alternative to traditional delivery methods, and can improve residents' overall quality of life and lower the carbon footprint of the last mile of delivery.
These are exactly the areas in which LMAD has been working in the past few years, too, and will continue to do so in the future.
Such experiments are an important stage of the development of the last mile in the EU, because they:
Bring together technological partners with different areas of expertise

Enable them to collaborate on the last mile of delivery and solve some of its most important challenges

Show different use cases to the general public and cities' administrations

Bring visibility to both the problems and the opportunities of the last mile and show possible solutions
Barcelona, Spain
In June 2022, CARNET and all partners in the LogiSmile project tested the autonomous robot Ona in Esplugues de Llobregat (in the larger Barcelona metropolitan area), in the first pilot experiment of the series.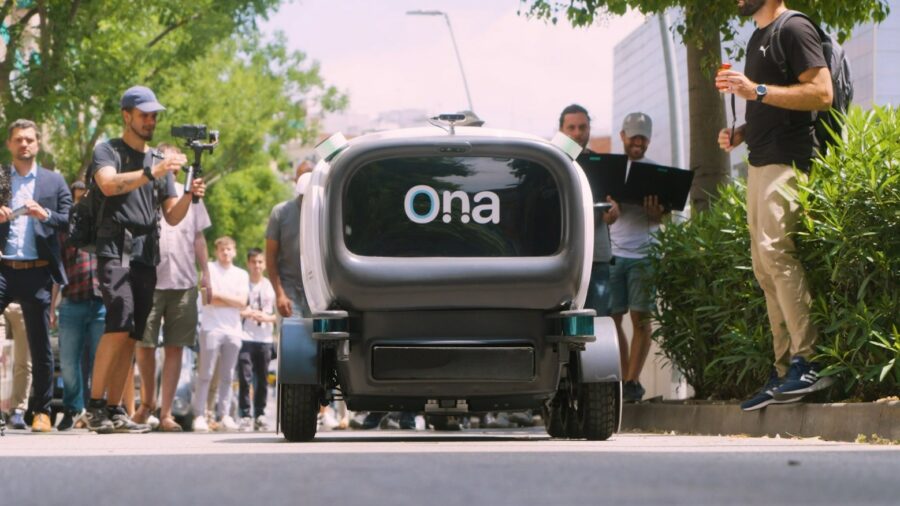 Ona on the streets of Barcelona in June 2022
Ona, which was designed by CARNET and Universitat Politècnica de Catalunya (UPC), navigated a 750-meter track of roads and sidewalks. The experiment aimed to validate the autonomous navigation system, the interaction between the robot and humans, the possibility to operate the robot remotely, and the actual delivery of two parcels to users.
Hamburg, Germany
In October 2022, LMAD and all partners in the LogiSmile project participated in an autonomous last-mile delivery experiment in Hamburg, Germany.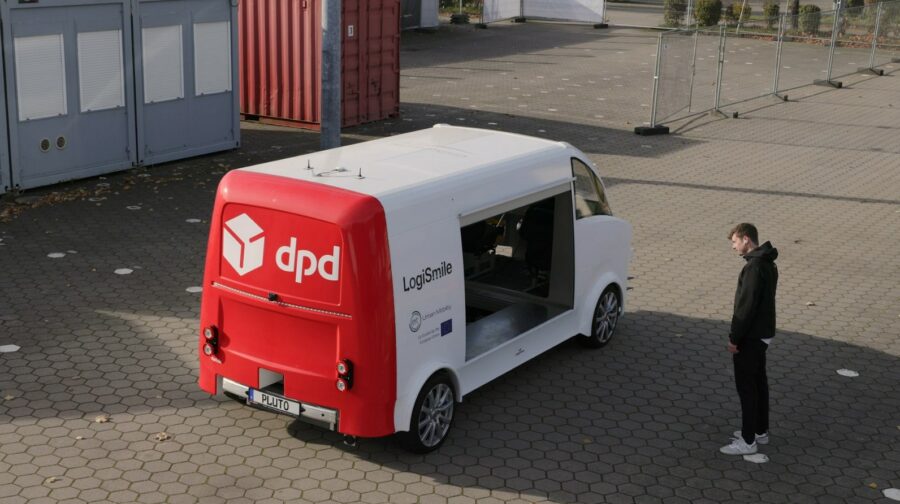 Pluto in Hamburg, in October 2022
The experiment featured the autonomous vehicle Pluto, designed by NFF (Niedersächsisches Forschungszentrum Fahrzeugtechnik), and showed how it can tackle important elements of key last-mile use cases, such as package handling and obstacle avoidance. Similarly to the previous experiment, it aimed to validate the autonomous navigation system, robot-human interactions, and the remote control of the robot.
Debrecen, Hungary
In the last LogiSmile experiment for 2022, Ona zipped through the streets of Debrecen, Hungary.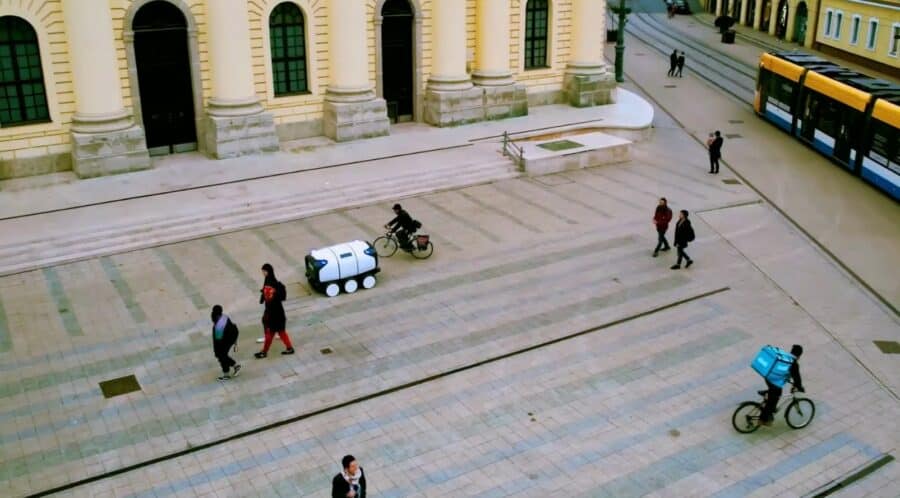 Ona navigating the streets of Debrecen in November 2022
Ona navigated through a half-kilometer route with the end goal to deliver a parcel to the city's Notary. Beyond validating the use case and its methods, this experiment aimed to test communication with end users to make sure robots can serve as efficient parcel carriers.
We also won new funding round for the URBANE project
In 2022, we were selected in Horizon Europe's new funding round for Safe, Resilient Transport and Smart Mobility services for passengers and goods, as a part of the URBANE project.
We're working in a large consortium of 39 partners with the shared goal of studying different last-mile delivery use cases in four living labs across the EU (in Thessaloniki, Bologna, Valladolid, and Helsinki), each working on different last-mile delivery use cases.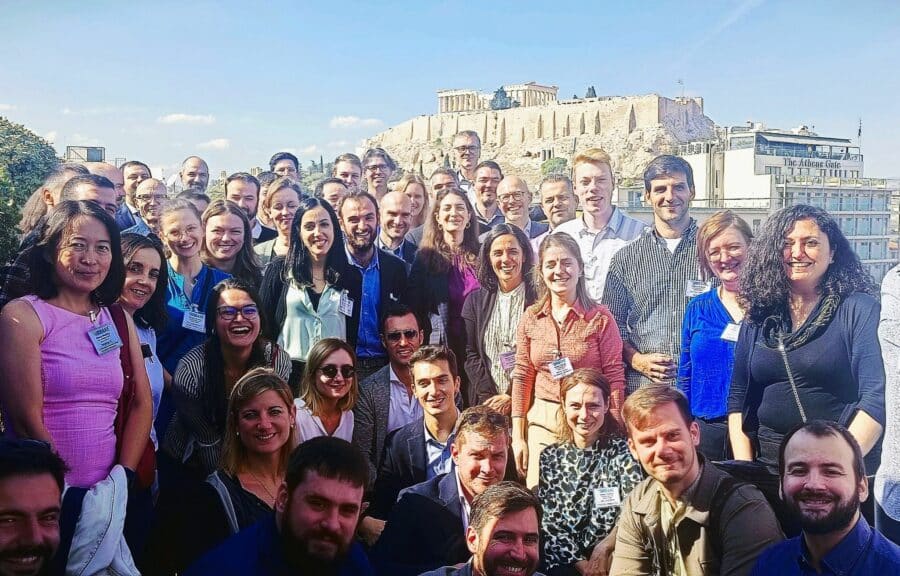 The partners in the URBANE project in Athens, Greece
In Helsinki, we're building autonomous delivery options for the last mile in partnership with DB Schenker.
This has been LMAD's focus area for the past few years, and also our main strength, which helped us stand out. Our focus on autonomous technology enriched the URBANE proposal and added to the other living labs' areas of expertise. We're excited to be working on the forefront of autonomous delivery in the EU.
Horizon Europe's funding will help us expand on our existing use cases and iterate on several new ones. Our goal is to demonstrate how last-mile delivery robots can be used successfully in public urban areas to:
Lower the carbon footprint of local communities by alleviating traffic congestion and pollution

Improve residents' quality of life by making alternative delivery options more accessible

Help DB Schenker provide a positive experience to its customers
Some of our local partners who make this possible are DB Schenker, City of Helsinki, Forum Virium Helsinki, TwinswHeel, INLECOM, and EIT Urban Mobility.
…And offered you lots of new content
In the past year, we looked into several important topics related to last-mile deliveries, such as:
Join us in 2023 to continue building the future of autonomous delivery!
We're among the first companies in the EU to perform experiments with last-mile autonomous robots, helping pave the way for larger deployments in the future, and in 2023 we'll be expanding our operations with new use cases and partnerships. Together with our partners, we're building the future of autonomous urban logistics in Europe.
Sign up to our newsletter and like our LinkedIn page to stay in the loop of the latest industry news and our new projects. Join us to build the future of autonomous delivery together!